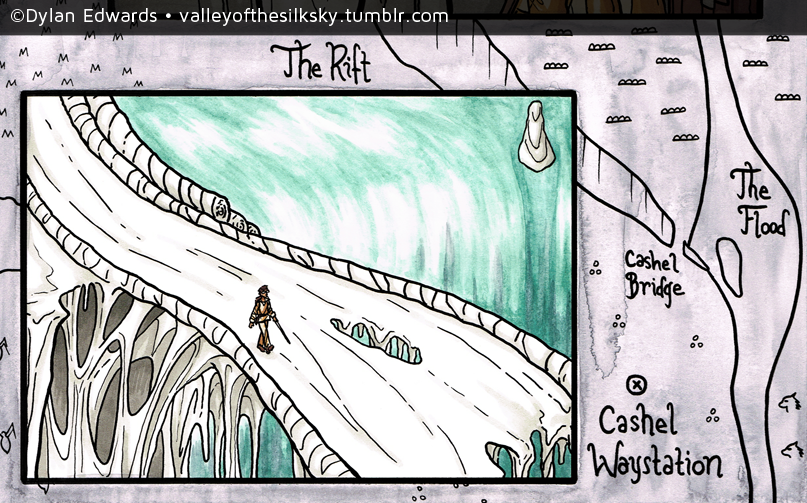 There's a decent amount of seismic activity in the Valley. Pocalo is generally highly resistant to earthquakes, as the construction-grade cloud spider silk is slightly flexible and highly shock-absorbent. But a particularly severe quake with just the right combination of vibration and shear forces got the better of Pocalo, and the next day people had to wonder, "Where did that giant rift come from?"
The Rift stretches for several miles across the Muru interior, and plunges several hundred feet down into Eradu, the province immediately below Muru.
This major geographic change also altered the course of the Red Silt River, forming a lake known as The Flood, which drains into Eradu in the form of a huge waterfall. During dry times this can cause the river to stop flowing further south from The Flood, causing water management problems for folks downstream.
Both The Rift and The Flood have made any form of travel across Muru a bit of a challenge. Boats can no longer ply the course of the Red Silt River. And the one crossing point, the Cashel Bridge, is in the process of sloughing off into the Rift.
Because The Rift appeared overnight, the Cashel Bridge was put up in extreme haste, with the idea that a better, more permanent solution would be implemented later. After only a few years it has begun to fall apart, but there's little incentive to build a more permanent crossing. Most people have opted for more reliable alternatives, and have abandoned the pre-Rift routes that took them past this region.